The prices of gold and silver have hit new record highs, driven by a weaker US dollar and continuing tensions in the Middle East and North Africa.
Gold rose as high as $1,518.30 (£918.70) an ounce during morning trading in Europe, before falling back.
Silver briefly reached an all time high of $49.79 an ounce before retreating to $49, still the highest since 1980.
Investors have been buying precious metals as a haven against inflation and recent geopolitical turmoil.
Analysts say gold could even trade as high as $1,600 an ounce.
Monday was the seventh consecutive trading session that saw the price of gold rise.
The price of gold has risen sixfold in the last 10 years, and has more than doubled since the global financial crisis of 2008.
However, the price of silver has been even more volatile, having quintupled since 2008, and up 12-fold in the last decade.
By mid-morning in London on Monday, silver was trading just below the high of $49.45 that it reached in 1980 following the Iranian revolution and related oil price spike.
'Dollar play'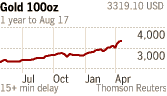 "It's the dollar play," said a Singapore-based dealer. "There is more room for prices to go even higher."
A weak US dollar generally correlates with higher gold prices, as both are seen as safe investments.
On Wednesday, the chairman of the US Federal Reserve, Ben Bernanke, is expected to affirm the commitment of America's central bank to quantitative easing, a programme to flood money markets with liquidity.
That also tends to drive down the value of the greenback.
Analysts say the prospect of low interest rates in the US is driving investors seeking higher returns towards gold.
"Investors expect the Fed to continue with low rates, which means the dollar could be even weaker, unless there were game-changing comments from Bernanke," said Ong Yin Ling of Phillip Futures.
Investors continue to react nervously to the uncertainty in the Middle East. An escalation in violence in Yemen and Syria over the weekend has also helped the price of gold strengthen.